Annapurna Base Camp Trek
Transportation

Aeroplane / Tourist Bus

Meals

Breakfast + Lunch + Dinner

Accommodation

Hotel + Lodges

Max-Altitude

4170m/13681ft

Arrival at

Kathmandu, Nepal

Departure from

Kathmandu, Nepal
More Facts
Less Facts
There are few treks that combine so many different landscapes and yet bring you so close to the base of 8 000-meter-high peaks in such a short period of time. One of the best examples is the Annapurna Base Camp Trek.

The Annapurna Base Camp trek is one of the most popular treks in the Annapurna region. The trail goes alongside terraced rice paddies, millet crops, unique rhododendron forests and high-altitude landscapes with the Annapurna Range and fish tail, in view, most of the times. The setting of Annapurna Base Camp is at 4170 m high altitude and is unique and incredibly spectacular. Base Camp is set amidst the majestic peaks of Annapurna (8091 m), Annapurna South (7219 m), Machapuchhre (6993 m) and Hiunchuli (6441 m).

The Annapurna Base Camp Trek takes 8 to 12 days, depending on your itinerary and length of trek days. The itinerary that we presented takes 12 days; starting from Nayapul (a 1 1/2-hour drive from Pokhara) and going north up to Gorepani and reach the famous viewpoint of Poon Hill (3210m/10531ft). From Gorepani we go eastward to Chomrong and then north again entering the Modi Kola (true river coming from ice) Valley which leads up to the Base Camp.
Many people trek the circuit Nayapul-Ghorepani-Ghandruk-Nayapul, which is very rewarding. This trek can easily be done with children and elderly people.
We can return via JhinuDanda and give our tired muscles a well-deserved rest in the delightful natural hot springs. Upon your return, it is worthwhile visiting one of the Gurung villages of Ghandruk or Landruk.
The lodges in the Annapurna Trekking Region are well equipped with extensive menus ranging from the typical Nepali dahl bath (rice with lentils) to pizza and Mo Mo and the entire noodle item.All the good food and especially all the local products are mostly organic. Hot showers are readily available as well. Most of the tea houses have Wi-Fiservices so that you can contact your love ones at home and send them some beautiful photos of the day.
It is possible to do this trek in all seasons; however, in the winter the Base Camp can sometimes be closed due to the snow level. In spring time, the huge rhododendron forests are in full bloom which gives the trek an extra appeal.
Trip Highlights
Impressive Sunrise and mountain views from Ghorepani and Poon Hill
Typical Gurung village along the trekking route
Fishtail (Machhapuchhre) Base Camp
Spectacular mountain and glacier views from Annapurna Base Camp
Natural Bath in hot spring at Jhinu
Outline Itinerary
Day 01:

Arrival in Kathmandu airport (1,350 m).

Day 02:

Drive to Pokhara (850m) by tourist bus – 7-8 hrs. or by airplane to Pokhara 30 min.

Day 03:

Drive to Nayapul (1,010 m) – 1.30 hr., Trek to Tikhedunga (1,570 m) – 3-4 hrs.

Day 04:

Tikhedhunga to Ghorepani (2 850 m) – 6-7 hrs.

Day 05:

Hike up to Poon Hill (3,210 m); and trek to Tadapani (2,610 m) – 6-7 hrs.

Day 06:

Trek from Tadapani to Sinuwa (2,340 m) - 6 hrs.

Day 07:

Trek from Sinuwa to Deurali (3230m), 6-7 hrs.

Day 08:

Trek to Annapurna Base Camp (4,130 m) - 5 hrs.

Day 09:

Trek back to Bamboo (2,345 m) - 6 hrs.

Day 10:

Trek to Jhinu hot spring (1,780 m) - 5 hrs.

Day 11:

Trek to Nayapul (1,010 m) - 6 hrs. Drive back to Pokhara – 1.30 hrs.

Day 12:

Back to Kathmandu by tourist bus or by airplane

Day 13:

Final Departure
Cost Includes:
Airport / Hotel pick up & drop off by private tourist vehicle.
Meals: Breakfast in Kathmandu and Pokhara. All meals during the trek
Three star hotels in Kathmandu and Pokhara with breakfast.
Teahouses during the trek.
All meals (breakfast, lunch and dinner) during the trek.
All ground transportation on a comfortable private vehicle as per the itinerary.
Local licensed proficient English speaking guide.
The required number of local staff and porters to carry your luggage during the trek (We assign one porter for every two guests).
Food, accommodation, salary, transportation, insurance, equipment and medicine for our staff.
Annapurna National Park permits ACAP and TIMS permit for trekking.
Down Jacket and sleeping bag by Tourist Saga Tourism (which must be returned after the trek).
Complimentary snacks (cookies, fresh fruits) on the Trek.
Farewell dinner in typical Nepali Restaurant with cultural dance
All Nepali government taxes, vat, tourist service charges.
Official expenses.
Cost Excludes:
Lunch and dinner while in Kathmandu and Pokhara (Requires approximately USD or equivalent currency $15 to $25 per person per day)
Travel insurance which covers emergency Rescue and Evacuation (compulsory).
Nepal entry visa; you can obtain a visa easily upon your arrival at Tribhuwan International Airport in Kathmandu. See above for information.
Mineral water, Alcoholic, and cold drinks.
Personal trekking Equipment.
Personal expenses (phone calls, laundry, bar bills, battery recharge, shower, etc.)
Tips for guide, porter (Tipping is expected).
Any other expenses which are not mentioned on 'Cost Includes' section.
Day 01: Arrival in Kathmandu airport (1,350 m).

A hearty welcome to Kathmandu, the Nepalese capital and cultural hub. We'll be waiting with a warm greeting and easy transfer to your hotel by private tourist car. We will then have an early evening briefing about your trek and introduction to your guide.

Day 02: Drive to Pokhara (850m) by tourist bus – 7-8 hrs. or by airplane to Pokhara 30 min.

This is the formal start of our trip from Kathmandu. Your guide will have explained everything to you the night before. All our backpacks must be ready before breakfast as breakfast will be served early in the morning at our hotel. We will be picked up at our hotel at 6:30AM and head to the bus station or airport. The bus from Kathmandu to Pokhara leaves at 7:00am and normally stops twice on the way for snacks as well as for lunch. We will have beautiful views of the river valley with rice paddies and millet fields.
We will reach Pokhara in the afternoon. It is a beautiful valley set on the banks of the Phewa Lake and is known for its panoramic views of Annapurna, Machapuchare (shape of fish tail) in the north, Dhaulagiri in the west and Lamjung Himal and Manaslu in the east. Pokhara's small, clean and natural setting is less crowded than Kathmandu and hence a perfect starting point for our trek. Note: The flight from Kathmandu to Pokhara will take only 30 min with spectacular views from the aircraft. After our arrival at Pokhara we will check into our hotel and rest for about an hour before we take a short hike to view the Phewa Lake. Overnight at hotel in Pokhara.


Day 03: Drive to Nayapul (1,010 m) – 1.30 hr., Trek to Tikhedunga (1,570 m) – 3-4 hrs.

We will awake around 6.30 am and have breakfast at our hotel around 7.30 am. After a one and a half hour drive from Pokhara, we will begin our trek from Nayapul. We will start to walk along the banks of the Modi Khola, and will pass through Birethanti (1 015 m), a large village with many shops and teahouses. From here, the trail continues through the village and follows the north bank of the Bhurungdi Khola. Most of today's hike, is flat and easy. There are very nice and traditional village on both sides of the valley. The trail continues with some steep uphill to Hille village and after a short climb, we reach Tikhedhunga at (1 570 m). Overnight we have good rest and sleep in our teahouse.

Day 04: Tikhedhunga to Ghorepani (2 850 m) – 6-7 hrs.

Today is a long trek and might be difficult for the not-so-fit; most of the trail is a steep uphill climb. After breakfast, we will start hiking around 7 am. We will cross two suspension bridges, one after the other. Then the trail continues uphill to Ulleri, a large Magar village at an altitude of 2 070 m. From here we have incredible views of Mt. Annapaurna South (7 219m). After crossing Ulleri village, we will continue on the trail for about another hour until we reach Banthati. We might consider stopping here for a short time to have hot or cold drinks and rest while taking in the fantastic views of the mountains and forest. After our well-deserved rest, we will continue our way north. Most of the remainder of the trail will be less steep and will be covered in shade which gives us some relief from the long, steep uphill we climbed earlier. We will enter a Rhododendron forest that is lush with the most beautiful flowers during the spring season. From here, we will trek towards Nangethanti at 2 460 m. After an hour walk, we will reach the popular village, Ghorepani (2 840 m) where we will have a well-deserved overnight rest and sleep.

Day 05: Hike up to Poon Hill (3,210 m); and trek to Tadapani (2,610 m) – 6-7 hrs.

Today, with a very early starting time of around 4:30 am, we will start hiking to the top of Poon Hill. We will need our head lamps for most of the track. It is a very steep uphill, but you will be rewarded with a breathtaking view of the Himalayas. POON HILL at a height of 3 210m, is the best viewpoint to see the overall Annapurna range, Dhulagiri, Tukche, Lamjung himal, Fishtail and many more. Sunrise over the mountain is astonishingly beautiful. We will spend a half hour at this fantastic viewpoint basking in the incredible beauty. After sunrise, we head back to the teahouse for a well deserved breakfast before starting our trek to Tadapani.
We start by heading uphill to almost the same height as Poon Hill, in the north-easterly direction. This part of the trail is beautiful with the combination of pine and rhododendron forest with White Mountain. We will reach the high point of the hill and then head down to Deurali where we will have some time to rest at one of the teahouses. The teahouses have souvenir shops, organized by Tibetan refugees. After our rest, we will descend to Banthati. The trail from here goes steeply downhill; we need to be careful because the trail might be slippery due to mud or even some ice. We will trek downhill along the deep Rhododendron forest to the river and from here we climb up to Tadapani, which is covered by a thick forest. Overnight we have a good rest and sleep at Tadapani


Day 06: Trek from Tadapani to Sinuwa (2,340 m) - 6 hrs.

After a good night's rest, we will be greeted in the morning to the beauty of Mt. Annapurna South, Hiuchuli and Fishtail which are close to us. After breakfast, our day will start with a steep downhill through Rhododendron forests. Leaving Tadapani, we continue heading down to the bottom of the valley, where we will cross the suspension bridge and then start the uphill to Gurjun, the village of Gurung people. From here, we will walk another few hours to reach Chomrong village. We will be able to view Mt. Annapurna South just in front of us. The trail continues to the bottom of the river valley where we cross a suspension bridge and head uphill to reach Sinuwa. Overnight at Sinuwa for a good rest.

Day 07: Trek from Sinuwa to Deurali (3230m), 6-7 hrs.

The entire trail today, will take us through a very thick forest and steep downhill until we finally reach Bamboo village. From there the trail will continue on the left-hand side along a deep valley with beautiful mountains on both sides. If we are lucky, we might see native birds and animals such as white monkey, collared Languor, Black bear and others. After a long walk, we will finally reach Deurali, where we will stay overnight to have a good rest.

Day 08: Trek to Annapurna Base Camp (4,130 m) - 5 hrs.

Finally our dream comes true!! We will start early in the morning following the trail that heads up to the valley. After a couple hours of walking we will reach Machhapuchhare Base Camp. At almost 4 000m above sea level, you will notice that there are no trees, only bushes due to the high altitude. The trail will continue uphill from here on the way to Annapurna Base Camp. At this altitude our bodies will feel the difference. We will need to take it slow and remember to drink lots of water. Our guides will be attentive to your needs and take good care of you. You will reach Annapurna Sanctuary (ABC) after awhile. A big congratulation!! You have achieved your goal. We will check into our teahouse and have a well deserved lunch and a good rest. In the afternoon, we will explore Annapurna Base Camp and experience the incredible views of Mt. Annapurna First (8 091m), Annapurna south, Hiuchuli, Gangapurna, Annapurna III, Gandharvachuli, and the Fish tail. This is one of the most spectacular views in the world and a must see. Overnight at ABC for a good rest and sleep.

Day 09: Trek back to Bamboo (2,345 m) - 6 hrs.

This morning we will awaken to one of the most beautiful views in the world. Sunrise over the mountains is breathtaking. After breakfast, we will start our way home and will say goodbye to ABC!!! We will follow the same trail down as it drops by 1,700m to the bank of Modi Khola and to Bamboo at 2 345 m where we will stay at one of the teahouses.

Day 10: Trek to Jhinu hot spring (1,780 m) - 5 hrs.

After breakfast, we will start our day by climbing up to Kuldighar. From here, our trail gradually leads uphill until we reach Sinua. We descend steeply from Sinua to the bottom of the valley where we cross the bridge. We will climb the steep hill back to the top of Chommrong. From Chommrong, the trail descends very steeply to the Jhinu hot springs. This is the ideal place to bathe and enjoy the hot springs. We will overnight at the teahouse.

Day 11: Trek to Nayapul (1,010 m) - 6 hrs. Drive back to Pokhara – 1.30 hrs.

After breakfast, we will start our trek on the right side of the Modi Khola river. This is a 6-hour walk, but it is one of the best and the most relaxing walks along the hillside of western Nepal. We will have lunch on the way. Our trek will end at Nayapul. After a 1.30 hour drive we will have returned to Pokhara where we will spend the night.

Day 12: Back to Kathmandu by tourist bus or by airplane

We will leave Pokhara in the morning and return back to Kathmandu. In the afternoon you have free time to rest and to do some last-minute souvenir shopping. In the evening we will have our farewell dinner to celebrate the successful completion of our journey. Overnight in Kathmandu.

Day 13: Final Departure

Your adventure in Nepal comes to an end today! We wish you all the best!! You can exchange emails and photos with your travel companions and Zam Zam Trekking P. LTD. A representative from Zam Zam Trekking will take you to the airport approximately 3 hours before your scheduled flight.
Departure Detail
Annapurna Base Camp Trek
What a lovely experience. Dinesh, We just want to thank you and your team for a wonderful and unforgettable experience. We are surely coming back to Nepal and Zam Zam Trekking for more expeditions.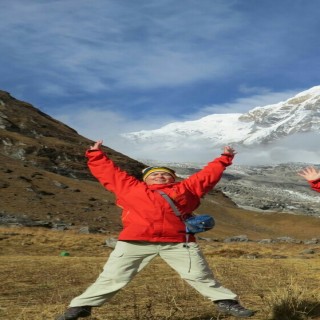 Annemarie Smith
South Africa
Trip Note
You are welcome to make your own custom made itinerary. Kindly be advised that we suggest that you make provision for at least 1 to 2 extra days in your trip.