Gokyo Valley Trek
Transportation

Private Vehicle / Aeroplane

Meals

Breakfast in Kathmandu and all meals during the trek

Accommodation

Hotel accommodation in Kathmandu and lodge/teahouses during the trek

Max-Altitude

4,790 m/15,715 ft.

Arrival at

Kathmandu, Nepal

Departure from

Kathmandu, Nepal
More Facts
Less Facts
The Everest Base Camp with Gokyo Valley and Cho La pass is a moderately difficult high mountain trek for the adventurous. Situated in the Sagarmatha National Park, the trek encompasses Mount Everest in the Khumbu Region 8848m. (29029 ft.), Lohtse (8516m.), Makalu (8463m.), Cho-Oyu (8201m.), Ama Dablam, Nuptse, Tawache, ThamSerku and others many more incredible mountains.
Everest, as the highest peak in the world, is the soul of the Himalayas. Everest base camp and the surrounding area is the main attraction of this trek. You will visit Gokyo Valley and breathtaking Gokyo Lake which are among the most beautiful valleys and lakes in the world. You will see firsthand the culture of Nepal. You will experience the Sherpa people whose lives are steeped in Buddhism, visit the renowned Tengboche Monastery and explore Namche Bazaar and other villages and special places.
Sagaramatha National Park is the highest national park in the world; UNESCO declared the park a world heritage site in 1979. Beautiful lake Gokyo was declared wetlands of international importance under the Ramsar Convention in 2007.
Outline Itinerary
Day 01:

Arrival in Kathmandu (1,350m/4,428ft)

Day 02:

Kathmandu: Sightseeing and trek Preparation

Day 03:

Morning fly to Lukla, trek to Phakding (2,651m/8,700ft): 8km, 3 - 4 hours trek

Day 04:

Phakding to Namche Bazaar (3,438m/11,280 ft.): 11km, 5 - 6 hours

Day 05:

Acclimatization Day - Namche Bazaar: (3,440m/11,284ft)

Day 06:

Namche Bazaar to Dhole (4200m/13,779ft): 10 km, 6-7 hours trek

Day 07:

Dhole to Machhermo (4,470m/ 14,663ft): 10km, 4-5 hours

Day 08:

Machhermo to Gokyo (4,800 m/15,744 ft): 7km, 4-5 hours

Day 09:

Gokyo Valley: Exploring Day

Day 10:

Gokyo to Dhole (4200m/13,779ft): 12km, 5-6 hours trek.

Day 11:

Dhole to Namche Bazzar (3,438m/11,280 ft) 10 km, 5-6 hours trek

Day 12:

Namche Bazaar to Lukla (2,800m/9,186ft): 19km, 6 - 7 hours

Day 13:

Fly to Kathmandu

Day 14:

Final departure
Cost Includes:
Airport / Hotel pick up & drop off by private tourist vehicle.
Meals: Breakfast in Kathmandu. All meals during the trek
Three star hotels in Kathmandu with breakfast.
Teahouses during the trek.
All meals (breakfast, lunch and dinner) during the trek.
All ground transportation on a comfortable private vehicle as per the itinerary.
Local licensed proficient English speaking guide.
The required number of local staff and porters to carry your luggage during the trek (We assign one porter for every two guests).
Food, accommodation, salary, transportation, insurance, equipment and medicine for our staff.
Annapurna National Park permits ACAP and TIMS permit for trekking.
Down Jacket and sleeping bag by Tourist Saga Tourism (which must be returned after the trek).
Complimentary snacks (cookies, fresh fruits) on the Trek.
Farewell dinner in typical Nepali Restaurant with cultural dance
All Nepali government taxes, vat, tourist service charges.
Official expenses.
Note: You can spend as much time as you like in the mountains. The above itinerary is a guideline. If you want to stay longer, we can be flexible and arrange that for you. Please also note that after the formal start your trip we cannot refund any amount.
Cost Excludes:
Lunch and dinner while in Kathmandu (Requires approximately USD or equivalent currency $15 to $25 per person per day)
Travel insurance which covers emergency Rescue and Evacuation (compulsory).
Nepal entry visa; you can obtain a visa easily upon your arrival at Tribhuwan International Airport in Kathmandu. See above for information.
Mineral water, Alcoholic, and cold drinks.
Personal trekking Equipment.
Personal expenses (phone calls, laundry, bar bills, battery recharge, shower, etc.)
Tips for guide, porter (Tipping is expected).
Any other expenses which are not mentioned on 'Cost Includes' section
Day 01: Arrival in Kathmandu (1,350m/4,428ft)

Altitude: 1,350m/4,428ft:

A hearty welcome to Kathmandu, the Nepalese capital and cultural hub. We'll be waiting with a warm greeting at the airport and will transfer you to your hotel by private tourist car. In the early evening, you will be introduced to your guide and briefed about the trek.


Day 02: Kathmandu: Sightseeing and trek Preparation

Today after breakfast we go on a cultural tour to some of the most historic and architectural attractions in Kathmandu valley which are listed by UNESCO as World Heritage Sites. We visit the famous Temple in the town, 'Monkey Temple' (Swayambhunath), historic Kathmandu Durbar Square, Buddhist shrine (Bouddhanath), which is the largest Buddhist stupas in the world and Hindu divine temple of Pashupatinath. In the evening, you will be introduced to fellow participants, and we will briefly discuss the trip.

Day 03: Morning fly to Lukla, trek to Phakding (2,651m/8,700ft): 8km, 3 - 4 hours trek

Altitude: 2,800m/9,184ft (Lukla) & 2,652m/8,698ft (Phakding). Walking Distance: 8km (3-4 hours) Flight time: 30 min.
Your big moment is finally here and we wish you good luck with each step to view the highest mountain in the world. After a short morning flight from Kathmandu to Lukla, you will be introduced to your porters. These men are the unsung heroes of Nepal. They will carry your luggage all the way to Base Camp and back.
The walk from Lukla to Phakding is easy. We will probably stop for our first mountain lunch in the Chaurikharka village depending on our hunger and time of our arrival in Lukla. We will descend towards Dudhkoshi Ghat, 2,530 (8,300ft). The trail follows the bank of the Dudhkoshi River until we arrive at our overnight village, Phakding (2,652m/8,700ft). Enjoy your free time in Phakding, a very popular shopping village.


Day 04: Phakding to Namche Bazaar (3,438m/11,280 ft.): 11km, 5 - 6 hours

Altitude: 3,440m/11,283ft Walking Distance: 11km (6-7 hours)
Today is the day of suspension bridges along the Dudhkoshi River. After breakfast in Phakding, we will hit the trekking road to Namche Bazaar, the biggest Sherpa Village in Nepal. Our trail will take us over the Dudhkoshi River via a long suspension bridge and then through a beautiful pine forest to Monjo. Soon thereafter, we will approach the entrance to Sagarmatha National Park (the world's highest National Park) for a brief permit check. Then we will descend to the Dudh Kosi River (Spotting Mani Stones along the way) on route to Jorsale. We will stop for a well deserved lunch here, before we start the uphill to Namche Bazaar. Our path along the riverbank is flanked by two crossings, one of which is the Hillary Suspension Bridge. It is quite a steep uphill to Namche Bazaar where we will stay overnight.


Day 05: Acclimatization Day - Namche Bazaar: (3,440m/11,284ft)

Today will be spent resting and allowing our bodies to acclimatize to the altitude. Namche Bazaar is well known as the GATEWAY to Mt. Everest and it is the main attraction of the Khumbu region. You will find Government Offices, ATMs, Internet cafes, shops, restaurants, and a colorful market. Our guides can take you to explore the real charm of Namche Bazaar. Hiking to Sagarmatha National Park rewards trekkers with a sunrise view of Mount Everest, Lhotse, Nuptse, Ama Dablam, Thamserku and Kongde.
There is an optional two hour trip to the Everest View Point. From here, we can decide if we want to walk another three hours uphill to explore the beautiful Khumjung village (Mt. Hillary School) which will help with acclimatization. For those of you who do not want to walk to the Everest View Point and to the Khumjung Village, you will have time to explore Namche Bazaar and can even check out the Sherpa Museum for an overview of the Sherpa culture. Overnight in Namche Bazaar.


Day 06: Namche Bazaar to Dhole (4200m/13,779ft): 10 km, 6-7 hours trek

We start our day on the Everest highway for about an hour. Then our trail starts uphill along the left-hand side of the Dudh Kosi Valley. We will visit Mong, the birthplace Lama Sange Dorje who is believed to have introduced Buddhism to the Khumbu region of Nepal. From there, the trail goes downhill; at times the trail is steep; there is a chance we will see mountain goats along the way. Next, the trail descends for a couple of hundred meters to close to the Dudh Koshi River. Again we will head uphill through pine forest. This part of the trek is quite difficult. Finally, we will reach the village of Dhole in the afternoon. Overnight in Dhole.

Day 07: Dhole to Machhermo (4,470m/ 14,663ft): 10km, 4-5 hours

Today, the hike will be short compared to the first days. From Dhole it is an uphill climb to Machhermo. Before the village of Luza, you will see a Chhorten which is a symbolic stupa. Throughout today's journey we will be walking alongside the Dudh Koshi River. The trail will end at Machhermo which is in a high valley with views of beautiful Mt. Choo-Oyu. We will have lunch. Overnight in Machhermo village.

Day 08: Machhermo to Gokyo (4,800 m/15,744 ft): 7km, 4-5 hours

We start today with excellent views of high Himalayan Mountains including Cho-Oyu (8,186m.) and Mt. Kangtega (6,782m). This beautiful valley widens as we hike up the left hand side of it. We will slightly descend to the riverbank before climbing onto the terminal moraine of the Ngazumpa Glacier on a steep trail. Upon crossing an iron bridge over a stream, the trail levels out as it follows the valley past the first lake, known as Longpongo, at 4,690 m. As the trail more or less flattens out, the second lake will be in front of us. A little further past the second lake, we will reach the third lake; these two lakes are linked by a surging stream. Gokyo, a small village stands on the right hand side of the third lake. After lunch, we will explore the third lake, Dudh Pokhari. Overnight in Gokyo.

Day 09: Gokyo Valley: Exploring Day

Today will explore the beautiful valley. If we have clear weather early in the morning, we can climb Gokyo Ri (5360m). The morning sun on Everest, which towers over all the surrounding peaks, is magnificent. This is a very popular peak where we can enjoy breathtaking views of some of the highest mountains in the world including Cho-Oyu, Gyachung Kang, Everest, Lhotse, Nuptse and Makulu. Climbing to the top of Gokyo Ri is demanding; it is steep and takes about 2-3 hours to reach the top. The scenery of Gokyo village, on the edge of the third lake overlooked by Cholatse and the largest Nogzumpa Glacier, is also magnificent. It is surrounded by panoramic mountains - Kusum Kanguru, Thamserku, Kangtega, Taboche, Cholatse, Makalu, Lhotse, Nuptse, Everest and Pumori. Another option for acclimatization is to walk 3 km north of Gokyo to enjoy the serene beauty of the fourth lake, Thonak Tsho. We can continue to the 5th lake, Ngozumba Tsho. Overnight in Gokyo Valley

Day 10: Gokyo to Dhole (4200m/13,779ft): 12km, 5-6 hours trek.

We feel more relaxed as we head downhill on the easy trail towards Dhole. Overnight for a good rest in Dohle.

Day 11: Dhole to Namche Bazzar (3,438m/11,280 ft) 10 km, 5-6 hours trek

After breakfast, the trail continues downhill through Rhododendron forest. A couple hours downhill brings us near the Dudh Koshi River. From here, the trail goes steeply uphill until we reach Mhong. Here we have panoramic view of Mt. Ama Dablam, Thamserku and Taboache. We may see mountain goats and Lophophoru (Daphe), which is the national bird of Nepal. From here it is an easy hike to Namche Bazaar.

Day 12: Namche Bazaar to Lukla (2,800m/9,186ft): 19km, 6 - 7 hours

After breakfast, we will trek towards the Hillary Suspension Bridge and pass through several local villages. As the trail descends steeply, you will notice more greenery and forests along the Dudh Koshi River. From Phakding, the trail ascends slightly to Lukla. Finally, we made it! Well done to your great achievement and teamwork. You have accomplished a physical feat of which others may only dream. Tonight, is our last night in a teahouse and in the mountains. We will organize a farewell dinner party for our trekking crew.

Day 13: Fly to Kathmandu

After we catch an early morning flight to Kathmandu, Zam Zam Treking will take you to your hotel where you can enjoy a hot shower, a rest and some afternoon souvenir shopping. If you want to explore any other areas of Kathmandu, you can arrange it with your guide. There will be a farewell dinner to celebrate the successful completion of our journey. Overnight in Kathmandu.

Day 14: Final departure

Your adventure in Nepal comes to an end today! We wish you all the best!! We can exchange emails and photos with travel companions and Zam Zam Trekking P. LTD. A representative from Zam Zam Trekking will take you to the airport approximately 3 hours before your scheduled flight.
Departure Detail
Incredible great journey with Dinesh/Zam Zam Trekking
It was an incredible great journey with Dinesh/ ZamZamTrekking. I warmly recommend this Trekking! With Dinesh it will be fantastic, relaxed, safe and fanny days. You will see incredible landscapes and meet frendly local peoples and dogs!- I send many cuddles to little Tashi and loving hugs to Dinesh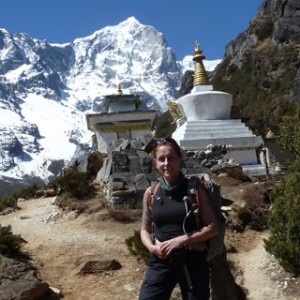 Joanna Malicka
Germany
Trip Note
You are most welcome to create your own itinerary list. Please note that, if possible, we always suggest that you plan one or two extra days in your trip.